As riders, one thing we can always benefit from is a little instruction. Did anyone ever teach you how to ride a Mountain Bike? Many times we continue to avoid the same obstacles or trails over and over again either because of a previous crash or the intimidation factor is too much. As much as falling is sometimes considered part of the sport, it's not fun and can easily turn you off mountain biking entirely, or leave you with a nasty, season ending injury.
The Ride Guides Skills Boot Camps aim to remedy this situation. Let's try and make those "ride-arounds" a thing of the past, or take you up a level overall and open up a whole new set of trails for you. Riders from novice up to strong-intermediate skill levels can benefit significantly from spending a day with our Instructors. Not only do we spend the day at one of the best cycling areas in Ontario, but you'll get a fresh made BBQ lunch to boot.
"The skills camp was EXCELLENT! We were able to come away with a solid understanding of the skills that were emphasized. I attribute this to the knowledge and teaching ability of the instructors and course format. Providing an off-trail environment to explain the skills, demonstrate the skills and then have the students attempt the skills while being critiqued was a low pressure way for us to be introduced to these new skills. Then being able to go onto the trail and apply what we learned while still being critiqued, solidified the skills in our minds."
"On Saturday July 5th we had a fantastic day at the Ride Guides Skills Boot Camp at Buckwallow. Matt, Sara and Tim were awesome! There were great explanations and demos of MTB skills which we practiced off-trail and then we got to use them on the trails. We were challenged to try trail features we would never have considered before and we did them! The whole day was well-organized, lunch was great, trails were fun. I think everyone really enjoyed the day. On the trip home, we talked non-stop about the things we accomplished outside of our comfort zones. We highly recommend Ride Guides! Thanks again Matt, Sara and Tim!"
CAMP LOGISTICS
Where are you heading & how are you getting there?
Buckwallow Cycling Centre
Departure Time
Please meet promptly 15 minutes before your designated start time. We will use this time to make sure all of our paperwork is sorted and we perform our safety checks. This will make sure we maximize the time we have available during the camp. If you have somewhere to be later that day, be sure to let us know ahead of time so we can schedule accordingly.
Tim Carter
Owner/Operator and Lead Guide and Instructor
Tim was the first Guide and Instructor hired by Rideguides when the business started in 2013 and as of June 2016 he is the new owner! Speaking with Tim you may have a hard time pegging where he is from, but it would be safe to assume "All Over". Having ridden all kinds of bikes in all kinds of places, Tim always brings his quiet charisma, wealth of worldly knowledge and incredible riding skills (be it trials, xc, road or anything with two wheels for that matter).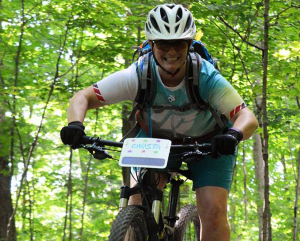 Christa Carter – Operations Manager, Guide & Instructor
Christa describes herself as an outdoorswoman. Attending summer camps as a child and growing up on the outskirts of 'town' she spent most of her time playing outside and riding bikes. She really fell in love with mountain biking while attending the University of Victoria and riding at "The Dump" (AKA Hartland Mountain Bike trails). She also spent many years teaching mountain biking, canoeing, kayaking and other outdoor skills and leading multi-day canoe trips. Christa is a PMBI Certified Instructor and YMCA Cyclefit Instructor. Her main goal while guiding and instructing is to make sure everyone has a good time!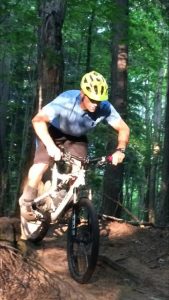 Michael Bartlett –

Guide
Lives on a small farm outside Coldwater, ON which is a great launching point for all things outdoors especially mtn biking in Copeland Forest. Recently completed my PMBIA Mtn Bike instructor/guide certification and stoked to join the Ride Guides team. When not riding I'm working and instructing SUP paddling at Swift Canoe & Kayak, a ski instructor in the winter and firefighter for Severn Township.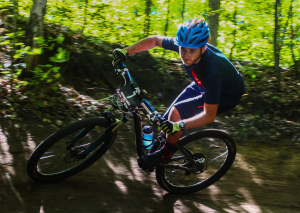 Andrew Dixon –

Social Media
Andrew is a man of many talents. Coming from the North East of England, Andrew is a Professional Engineer (by day) and a pretty decent mountain biker in his spare time. He likes to think himself a bit of an XC marathon racer, and can also be found pounding pavement on his road bike. Andrew enjoys taking photographs of his (and our) riding experiences, and because he uses a computer for a living, we let him update our social media accounts. Andrew has previously worked for British Cycling, and brings a wealth of practical knowledge from previous wilderness and first responder jobs.